The HoCo Arena is a public-owned facility providing the area community with recreational and educational opportunities.

Home ice for the Hancock High School Bulldogs. It also hosts the Copper Country Junior Hockey Association and Copper Country Old-timer's, along with providing open public skating.

Open ice time is available for private and group rentals.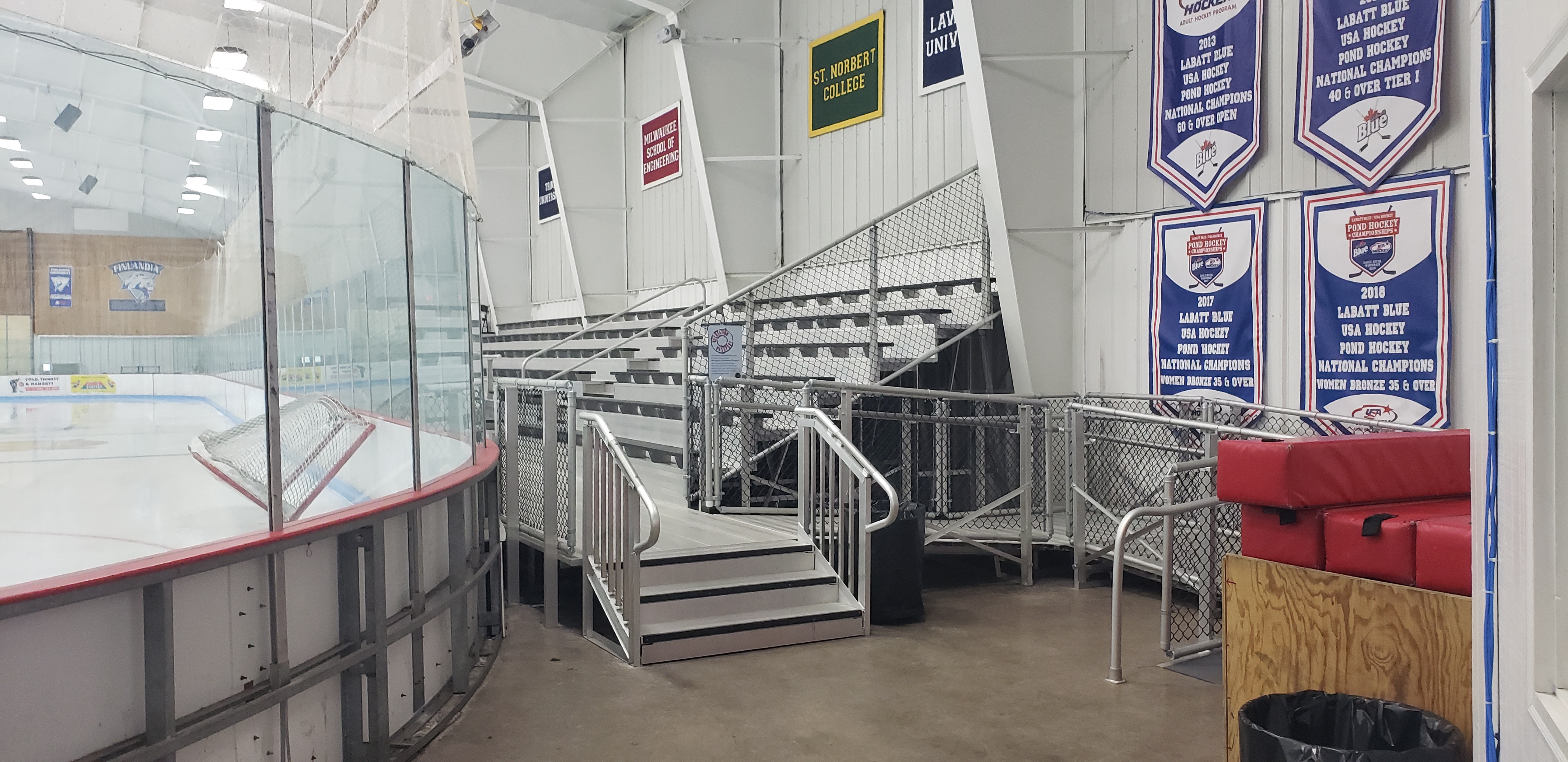 March through September, when the ice is off, the expansive rink area is available for rental to groups, organizations or private parties by arrangement. The facility also offers two spacious meeting/conference rooms with tables and seating accommodating up to 100.
Click here to watch a video of the arena construction beginning in 1972.
Facilities
Dave Wiitanen Room
The Dave Wiitanen Room features 2,200 sq. ft. of useable space complete with kitchenette, tables and chairs available for up to 100 persons.
Please Note: No handicap accessibility to this room.
HoCo Arena Funding
The HoCo Arena has been a cornerstone of healthy recreational and social activities in the Copper Country for over 40 years. Age of the building and government regulations are driving the need to upgrade the equipment and facilities.
Although we have had a significant start in our funding efforts, more support is needed. Any business, organization or individual interested in making a contribution or pledge is encouraged to contact us for additional information to assist us in reaching our goal.
Contributions can be made directly to:
City of Hancock
399 Quincy Street
Hancock, MI 49930

Calendar
Contact Us
For booking, facilities scheduling or current rental rates contact:
Facilities Manager
906.482.4387
To schedule ice, or for all other communications, email:
arena@cityofhancock.net
In addition to hockey activities over the seasons the arena has hosted many events including receptions, reunions, county fair, circus, auctions, garden shows, boat shows and perhaps this year, your event!

The arena offers 17,000 square feet of unobstructed area with adjacent bleacher type seating (bleacher heat available by arrangement).
LiveBarn
LiveBarn provides online broadcasts of hockey games at many rinks across the US and Canada. Games are broadcast both live and via on-demand replay. Friends & Family can watch online when they cannot attend a game. Athletes and coaches can review games and share video highlights online or download full games for review and archive.
LiveBarn is available via a monthly subscription basis starting at $14.95/month. Use the HoCo Arena PROMO CODE: 7318-b269 for a 10% discount.
While viewing on-demand, you can SHARE 30-second highlights via social media and email (standard account) or DOWNLOAD 30-minute clips and store up to 30 hours of content per month (premium account).
For more information, please visit www.livebarn.com
Instructions for viewing, sharing or downloading games:
Create a LiveBarn account using the HoCo Arena Promo Code: 7318-b629

Search for your rink using "Houghton" and select rink.

Select LIVE to begin watching live action or ON DEMAND for past games or to share/download clips.

For ON DEMAND, select date and time.
TO SHARE: Pause video at time you would like 30-second clip to STOP, select social media, share provided link
TO DOWNLOAD: Pause video, select download, press both download buttons and 30-minute video will download to your computer (for full game select multiple 30 minute sections)
(906) 482-4387
Related Links