Rates
Current Residential Water Charge: $9.05/1000 gallons
Water debt flat fee charge: $7.62
Current Residential Sewer Charge: $9.85/1000 gallons
Sewer debt flat fee charge: $5.00
Water turn-on fee: $60.00
Water turn-off fee: $60.00
Note: Water debt fee increases based on size of water meter.
Lawn and garden meters available at a cost of $150.00 each, for reduced sewer lawn rates.
Contact City Hall at 906.482.2720 for further information.
How to read billing codes on your monthly water bill:
| | | |
| --- | --- | --- |
| Code | Utility/Charge | Billing Type |
| 10-12 | Water | billed per gallon usage |
| 15 | Water | debt fee flat charge |
| 50-52 | Sewer | billed per gallon usage |
| 56 | Sewer | debt fee flat charge |
| 60 | Meter Service Charge | flat charge based on meter size |
| 70 | RTS Garbage Charge | flat charge for garbage pick-up |
Payment Options for Your Utility Bill
IN PERSON: At City Hall, 399 Quincy Street, Hancock, MI 49930

ONLINE: CLICK HERE TO PAY (fees apply)

BY MAIL: City of Hancock, 399 Quincy Street, Hancock, MI 49930.

DROP BOX: Located on the west side of the building at the City Hall entrance.

AUTOPAY: ACH automatic payments. Click here to download form.
• Fees - A convenience fee equal to 3% of the payment amount ($2 minimum) will be assessed for all credit card payments.
• 5% penalty must be added to current bill after due date. Then 1% per month on balance forwarded.
• Payment must be received by our office by Due Date. (Postmark NOT accepted)
LEGAL NOTICE: OVERFLOW OF CITY OWNED SANITARY SEWER OR STORM WATER SYSTEM
City Of Hancock Water Quality Consumer Confidence Report
Prior Years:
Trash Collection & Recycling
Collection Schedule
All items need to be out by 7:00 am. Weekly same day pick-up for garbage and recycling.
[ VIEW MAP ]
Monday Pick-Up
Residents east of Elevation Street.
Wednesday Pick-Up
Residents west of Elevation Street and residents living on Elevation, S. Elevation, and N. Elevation Streets.
FEES
Ready-to-serve charge (RTS) is for garbage pick up.
$6.00 per month charge is billed on your water account.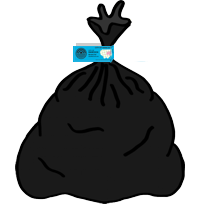 City residents may purchase garbage bags of choice with the requirement that the bags are a minimum of 1.2 mill thick & no greater than 35 gallons. Bags must be tied, should not be overstuffed, and weigh no more than 30 pounds.
Garbage stickers: sold in sheets of 5 for $5.00. Stickers should be attached to the top of the bag where the bag ties. Attach it by folding it in half and sticking it to itself.
Previously purchased City of Hancock garbage bags will still be accepted.
1 roll of 10 Bio-bags are available for $10.00
Stickers can be purchased at City Hall, Risto's, Holiday, Keweenaw Co-op, Krist oil (Citgo) and Pat's Foods IGA.
Waste Management honors the following holidays. Your trash pick-up will be delayed one day later after these holidays for the week of the holiday:
New Year's Day
Memorial Day
Independence Day
Labor Day
Thanksgiving Day
Christmas Day
If the holiday falls on the weekend, there is no disruption in service.
Recycling
Special bins are NOT required for recycling. Recyclables can be placed in any bin or tote that is marked "recyclables" to distinguish them from the trash.
The Copper Country Recycle/Reuse website provides a list of acceptable items for recycling.

Questions can be directed to the City of Hancock at 906.482.2720 or Waste Management at 800-963-4776 www.wmsolutions.com/locations
Resources Links
Houghton County Solid Waste Transfer Station
Another source for disposal of items such as construction materials. More information : http://houghtoncounty.net/directory-transfer-station.php
Annual Spring Cleanup
Each year for two days, usually near the beginning of May, the City of Hancock offers free disposal of debris, such as old furniture, lumber, small metal items, etc. which can be brought to the Public Works Garage. Other items including white goods and scrap metal may be accepted as well.
The City of Hancock also provides curbside pickup of leaves, grass clippings and small branches during a two-day period usually near the beginning of May as well. Bio bags for leaves and grass clipping must be used and be purchased from the City of Hancock.
Details will be posted in the City News as they become available each year.
Other area utility companies:
Natural Gas
Semco Energy
1.800.624.2019
Electricity
Upper Peninsula Power Company (UPPCO)
1.800.562.7680
Cable Television/Internet
Charter Communications
1.877.728.3121
Frontier Internet
1.855.668.9262